Back to projects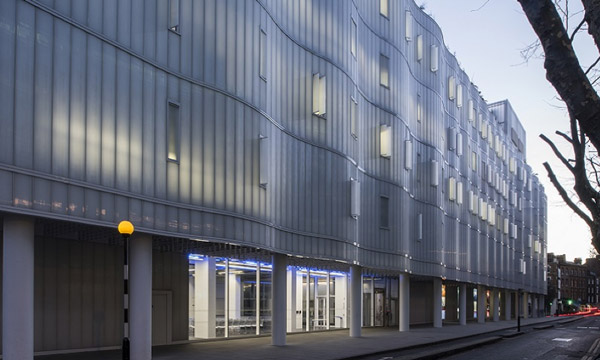 The Sainsbury Wellcome Centre for Neural Circuits and Behaviour - UCL
Lead Contractor: KEIR
M&E Contractor: Balfour Beatty
Consulting Engineers: ARUP
When consultants ARUP were appointed to design the MEP services for the award-winning neuro-science building in London, the remit was to target a BREEM rating of 'Excellent' as the design standard. This would be a significantly impressive result for an inner city highly serviced research building with three separate environmentally controlled zones.
Several carbon reduction strategies were incorporated into the building design, including a CHP system providing a regulated energy carbon reduction of 35%. Alongside this, an Aircuity system from Critical Airflow Europe was implemented that samples air for VOCs, solvents and other particles and gases, reducing lab air change rates from typically 10-12 ACH to 4 ACH. This has resulted in providing a further carbon reduction of up to 20%. The Sainsbury Wellcome Centre is the first new-build installation using a demand-control system in the UK.
Aircuity creates smart airside solutions through its intelligent building platform, significantly reducing energy costs and improving the indoor environmental quality for building occupants. As the demand control solution, Aircuity optimises ventilation rates through its patented technology. As a result, commercial, institutional and lab building owners can lower operating costs, protect occupants and verifiably reduce energy use by as much as 60 percent. 
The Sainsbury Wellcome Centre brings together world-leading neuroscientists driven by a common scientific goal: to understand how neural circuits in the brain give rise to the fundamental processes underpinning behaviour.